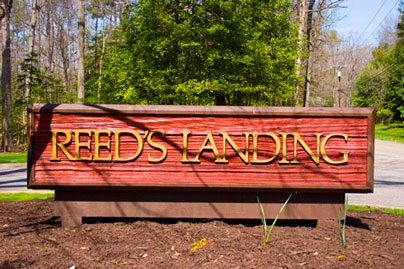 What's happening to Reeds Landing?
17th April 2020
I was born and raised in the southside of Richmond and just recently moved back to Bon Air. I love this part of town. I know it very well, the neighborhoods, shortcuts, hole in the wall restaurants, you name it.
One of my favorite neighborhoods on this side of the river is Reeds Landing. I have many memories of visiting friends as far back as middle school where I would tool around the neighborhood on bicycles admiring the land and architecture.
If you don't know Reeds Landing, this is a gated community (with an actual security guard) located off of Old Gun Road. It has an eclectic selection of architectural styles nestled in beautifully manicured landscapes. Most homes are setback from the street adorned with mature trees sitting on rolling hills. It's not uncommon to see half a dozen deer grazing in someone's front yard.
I have noticed, based on personal experience as well as general market research, that there have been some serious slides in the real estate values. (Sidenote, this is not the only luxury neighborhood to see noticeable declines in value).
How significant you ask? For example a property just recently sold in December. The last owner purchased the home in 2003 for $720,000. The home had minimal improvements with the most recent owner but also minimal deterioration. The home sold 16 years later for $525,000.
This kind of loss in value is staggering, especially when we are at a 10 year high in overall real estate values.
Typically you like to see a 3% year-over-year increase in value in your property. Unfortunately, this is not the only example of homes in this neighborhood that have sold for much less than they were purchased. I will also note, it would make sense if this were 2007, 2008, but it's not.
How can you translate this information? Well, it's all speculation when attempting to read the behaviors of the market. But I will tell you this, I think it might be a great time to buy in this neighborhood.
If you're looking for a high-end property with a larger lot in a beautiful neighborhood on rolling hills nestled in the forest on the southside, this might be the one for you.
Take a look and you may be surprised what your money can get you in southside.
Did I also mention the award winning schools?