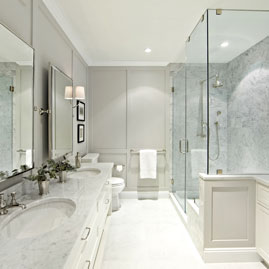 Timeless Updated Master Bathroom
11th May 2020
* caution, overly confident opinion piece. Proceed with caution.
Bathrooms baby! No butts about it.
We see half, full and master baths every single day.
We have upgraded many ourselves in our own personal home as well as investment properties. There are trending styles and timeless upgrades and we know which ones work.
Most people can identify what is trendy and stylish for the times. Take heed to any Lowe's and Home Depot to see what is being sold to the masses. There are materials that tend to be over the top and flashy which rarely stand the test of time. And there are functional anesthetic choices that show up time and time again as desirable over the decades.
One of the best things you can default to when you are designing a bathroom is simplicity. Unlike a kitchen which requires some functional logistics a bathroom can simply be designed as "pretty."
Of course he will need to have doors that open toilets with enough space to sit down, you can't just throw darts at a board.
But we're people typically trip up is the aesthetic choices. Vanity, tile selection, bathtub choice and tile, paint color and lighting.
Assuming that all of your plumbing is going to be staying in the same place start with with a budget. Don't go crazy and don't cut corners. Easier said than done. Also figure out if there are any projects with the bathroom remodel that you can do yourself to save money, installing fixtures, painting, whatever you're comfortable with.
When it comes to textures, tile shapes, wallpaper patterns or paint colors you don't want to overdo it. There have been a number of simple white ceramic tiles that have remained desirable for almost 100 years. Avoid inserting the glass tile strip through a backsplash behind the vanity or across the tiled shower. This tends to come off Looking like a motel or a new 2003 design.
We typically default to bigger mirrors to offset smaller spaces.
Make sure all types of metals, faucets and lighting, hinges and doors match. (however, these days we are seeing a mix between gold and silver. This can be done tastefully. What people tend to do is have the same consistent metal from waist height up to the ceiling in a different metal from the wayside down. Who knows what kind of designing rules we will break in 2020.)
Do your best to understand the color tones throughout the bathroom including flooring, trim, tile and other items to select the correct color. There are millions of kinds of blue but in your bathroom there might only be a couple of shades that make the most sense.
Also consider lighting and windows when choosing a paint color, light can literally change a color from one to the other so error on the side of light with a bathroom that's dark and vice a versa.
Don't skimp on Tile. This does not mean purchase an expensive material but avoid only tiling half of a backsplash or half of a shower. Floor to ceiling or vanity to ceiling tile always is impactful and projects a high and look. If you're able to do this work yourself the difference between telling your entire shower or half of your shower may only be $150.
Best of luck!