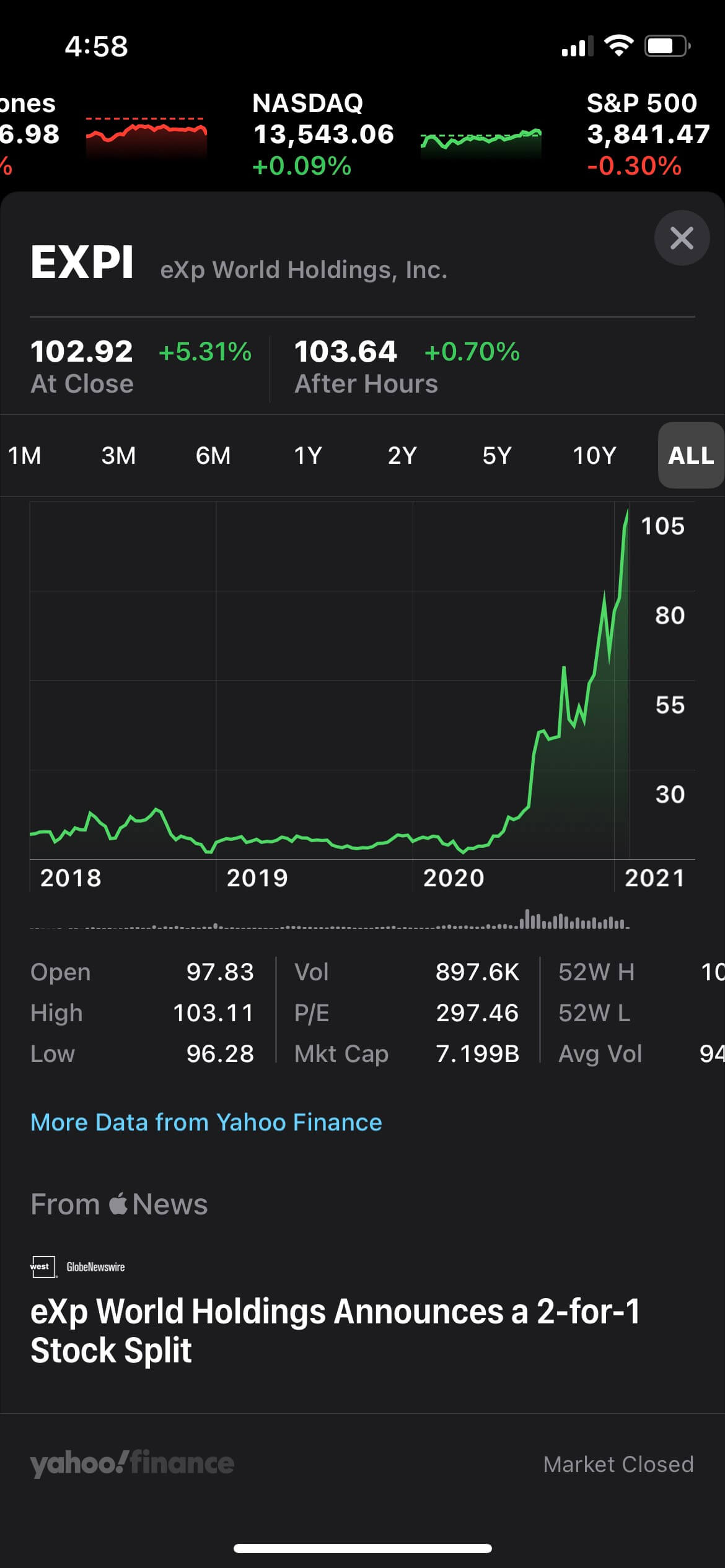 "No, I'm good"
3rd March 2021
This is what every single Realtor says when I pitch them the idea of a new real estate firm. No matter if they are successful, new, happy or even actively looking for another place to work. This is just a plain and simple technique of shutting down sales sales person. It's a good way to be polite and say "take a hike". And I get it. Rarely if ever is someone open to a sales conversation, especially if they are already a sales person.
Now it is pretty funny to hear Agents of all stripes say that they are not interested in an opportunity that they know nothing about. Some may say that it lends itself to how comfortable and happy they are with their current situation. Nothing wrong with that. And the fact that they have no motivation to leave would be good enough for them to not even consider any other options. However, as an agent who made the change and who is living proof of the improvement, it does seem silly to not, in the very least, want to hear more.
So if you haven't figured it out, this blog is for Realtors. (all my potential clients can skip to the next one, unless considering a new job opportunity.😉) While EXP Realty could be the right fit for all sorts of Realtor, the ones that I'm looking for are the good ones.
What do I mean by that?
Ideally I would like an Agent with two or more years of experience or at least 10 closed transactions under their belt.
At this point in an Agent's business the individual would uncover quite a bit about the industry, themselves and how to succeed and also how to not fail.
Also they will be at a level where they can really tap into the EXP model across all frameworks and build their business quickly. Utilizing the KVcore CRM, advertising department, tapping into the daily/regular education we offer virtually, utilizing multiple revenue streams, investment accounts, etc. There are so many things at an Agents disposal within this company that no other company offers. Period. And quite honestly, it's hard to really wrap your head around it until you sit down and listen for 30 minutes. Then, follow up with some questions and concerns.
Until then, Agents don't know what this company can do and they do not know how it can change their business and life.
Now for starters, this company has a back bone which functions as a very traditional real estate firm. Think Keller Williams. In fact, the seeds from which this company has grown emerged out of this extremely successful business model. Keller Williams grew quickly and still to this day experiences quite a bit of success because of a number of great business practices. Agent support, mentorships, education, attractive teams and camaraderie. All of this Exp Realty has adopted and improved upon.
One of the main, simple and easily understood reasons that I joined this company is because it was cheaper. There are tons of real estate firms out there, some of which are terribly expensive. You could pay over $100,000 into your real estate firm every single year just to hang your license and borrow their logo essentially. These expensive firms will claim that you get what you pay for. You are investing into the company in the company invests in you and so on and so forth. The argument being that these firms, while very costly, give you a return on your investment and your business should grow. This is arguable. Especially these days when real estate and the business of real estate grows in so many different ways then it didn't five years ago.
On the other hand there are firms that are pitched as "free". If you really dig into the details this is just not true. Brokerages that claim to be free will still charge you a transaction fee or a monthly desk fee or a technology fee or all of the above. There is no way a business can function without getting paid and that also applies to "free brokerages". It is assumed in the circumstances that these firms offer you nothing. If they are claiming to take no investment from you then they will also offer no investment back. This model often attracts agents who are new who don't have much money to begin with and see it as an option where they can keep more of what they make. Unfortunately without any safety net at all in the first year or two of your business there's a good chance that you will fail before you even get there.
Then there is Exp Realty. A firm that offers more support, benefits, investment opportunities, revenue streams, mentor ships and education than any other real estate firm out there, while also being extremely competitive when it comes to commission splits.
What I always tell agents is this, if there was a better firm, I would be there.
There isn't.
So in regards to cost here is a breakdown of my personal experience. At my last real estate firm I was paying in about $26,000 a year to hang my license. This number would continue to go up per transaction had a closed more deals in the year. As a Realtor new to the industry, you never really know if this is good or bad or somewhere in the middle. Unless you're going around from firm to firm is hard to say. (especially because agents are quick to find out that every single firm out there wants them to "join the team") Plus there is a level of secrecy between businesses about what their splits are, and there are a variety of situations where these splits change. If you happen to be a very successful Agent with a dozen Agents on your team a company might be willing to negotiate your splits down to bring you into the company (Normally for 6-12 months). Assuming that that's not the case $26,000 a year is pretty normal. So when I heard that I could drop that by 10,000 bucks annually I switched to EXP Realty, no questions asked. There wasn't anything else that I needed to know other than I could keep an extra $10,000 annually in my pocket and also not sacrifice anything on the other end. (If you join a team and Exp Realty your cap pay-in drops down to $8000, if that team has 10 or more agents that Cap drops down to $4000)🤯
The other thing that was a big draw for me was branding flexibility. Many large real estate firms believe that their logo should be the focus of each individual's brand. I think it's just an old tradition to put the firm first so they can use it as their own branding tool and recruiting technique. But in fact, if you know anything about real estate, the success of the agent totally relies on their own business and branding. I really enjoyed the idea of coming up with a logo, color combination, business cards, signage and everything that came with it. But my original real estate firm pushed back on this and had complaints about my designs. To me it didn't seem justified and took some of the wind out of my sails and dampened my excitement.
EXP Realty is different. They thoroughly encourage it. They will straight up tell an Agent, make the Exp logo smaller, focus on yourself, build out your image. Build out your brand. That is half the fun when embracing the idea that as a real estate agent you are a business owner.
The other huge detail that has ultimately changed my life is their EXP Realty investment account. I have not come across any real estate firm that offers support that could be retirement oriented or investment oriented. However, as a real estate sales agent in Exp Realty you have the ability to invest in your own company. Exp Realty is publicly owned and publicly traded. When you join the company you are given shares of stock. When you sell your first home every year you are given shares of stock. If you bring individuals into the company you are given shares of stock. If you hit their top sales goal called icon agent you were given $16,000, your entire, and shares of stock. If this doesn't blow you away then you might not fully understand exactly what this means. So I will continue. For example, if you are in icon agent (A capping agent that closes 20 additional contracts in the year) Then the 8020 split up to $16,000 annually he's given back to you in the form of Exp stock. So one way you could look at it is, you just worked a year in real estate and paid your company nothing. The other way you could look at it is you now have $16,000 of stock in this company which has not remained $16,000. Here is some quick math to put it into perspective.
If you joined the company two years ago when our stock was about $15 per share and you got $16,000 of it then, your cap would be worth $100,000 today. Meaning, if you were with another firm you would be $84,000 poorer than if you were with EXP realty. Hopefully your mind is blown now. Furthermore if you would like to make money with your money incrementally Exp offers in additional investment incentive. You are able to take 5% of every commission check and purchase EXP stock at 80% value. Meaning 5% of every commission check can immediately be worth more in equity. This ownership, like mentioned above, will increase in value over time.
The other final perk that really helped me was automation. If you know anything about real estate, you know that this market is saturated. Easily put, there are too many Agents out there. Too many. Each and everyone of them are chomping at the bit to try and identify in lockdown the next lead. Prospecting tends to be where Agents spend most of their time, energy and money. EXP Realty helps to offset all of these. With their high performing CRM or client resource manager, KV core, they are able to help agents organize their business and support it. You can advertise in a multitude of ways through this platform quickly and easily and you can also organize all of your clients and stay connected with them as KVcore automates most of these actions. I don't need to go into every detail why KVcore is a great system but I'm happy to do so if you have questions.
If you are looking for additional perks like their aggressive training schedule which offers anywhere between 6 to 8 hours of classes per day or their healthcare package or they are profit share model or anything else, this is icing on the cake.
Need I say more?
Now I will concede that EXP is not for everyone, not sure why, but it's true. However, if you are a business minded Realtor looking for a career and support that will take you through retirement versus working till the day you die, this is the company for you. And that's why we have been taking on almost 10,000 Agents every year for the past two years. We are just now scratching the surface and are nowhere near market saturation when it comes to Realtors in the world.
We just opened markets in New Zealand, France, India and we are all over North America currently. We will then tap into almost every English-speaking country and all of the other foreign languages will follow quickly behind.
If you are a Realtor and this does spark your interest or at least peek your curiosity shoot me a message and I would be happy to fill you in and answer your questions. No I will not push you towards this company if you have no interest but if you have no interest I will certainly wonder why. Just know that the only thing holding you back from a brighter future in real estate are the decisions you make today. I'm loving proof. While you may feel uncomfortable about change, change always brings discomfort but what's on the other side is greatness.