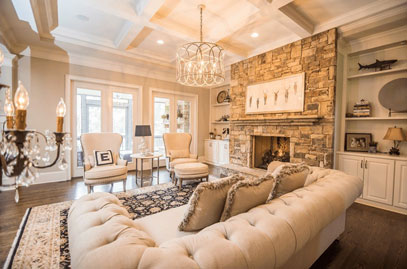 Holy smokes, turn on the lights!
1st June 2020
Rarely do I ever show a property and the buyer walks through and says, "This space is just too big." Now I have heard plenty of criticisms of properties some I can completely understand and some I might not. But when it comes to the feeling of a room people always like "spacious".
I will add one caveat of information in regards to the real estate market. These days I do see a move away from the 1990s McMansion fad. Typically these buyers will prefer a newer or more upgraded home versus a larger, older and less upgraded home.
But, when it comes to prepping your home for market and having it ready to show a clean area and spacious feeling is ideal. A lot of this has to do with traditional decluttering and de-personalizing (normally a massive undertaking). As well as a deep clean focusing on windows to increase natural light. Which brings me to the topic of this blog, Light!
Lighting itself will probably be left to its own separate blog so let's just focus on the strategy of lighting when it comes to selling your property. My recommendations are, go to your home and make sure all of the lights work. If they do make sure that all of the lightbulbs work. If they do make sure that all of the lightbulbs match. Easy, right? I tend to recommend a bulb that is a bit more Amber. When you have properties with bulbs that are brilliant white or even bluish it gives off a feeling of cold. Something you might find in a hospital or science lab. A feeling of spaciousness and a feeling of cold is much different.
Once you have your working fixtures with working and matching bulbs turn them on, all of them! What do you mean, do you want me to spend an additional $.75 on electricity? Absolutely. Just think when a buyers agent brings a client into a property and all of the lights are off they might walk the client through a totally dark house. When I get to a unlit property with my buyers I do my best to run through the entire thing and turn on all the lights before they arrive or while they are touring. But some agents don't. There's nothing worse than seeing a property in the dark, especially at night time.
When you have your property ready to go and accepting showings have every single light on. That means undercabinet, over stove, exterior, lamps you name it, get it all on and looking good. This may seem simple or small but the simple and small things are what gets people buying your house versus your neighbors.
We are super nitpicky when we guide our sellers to make smart decisions to get them the most money for their house. We do that because we know that the buyers out there are the exact same way. If we are picky first the buyers don't have to be. Cha-Ching.