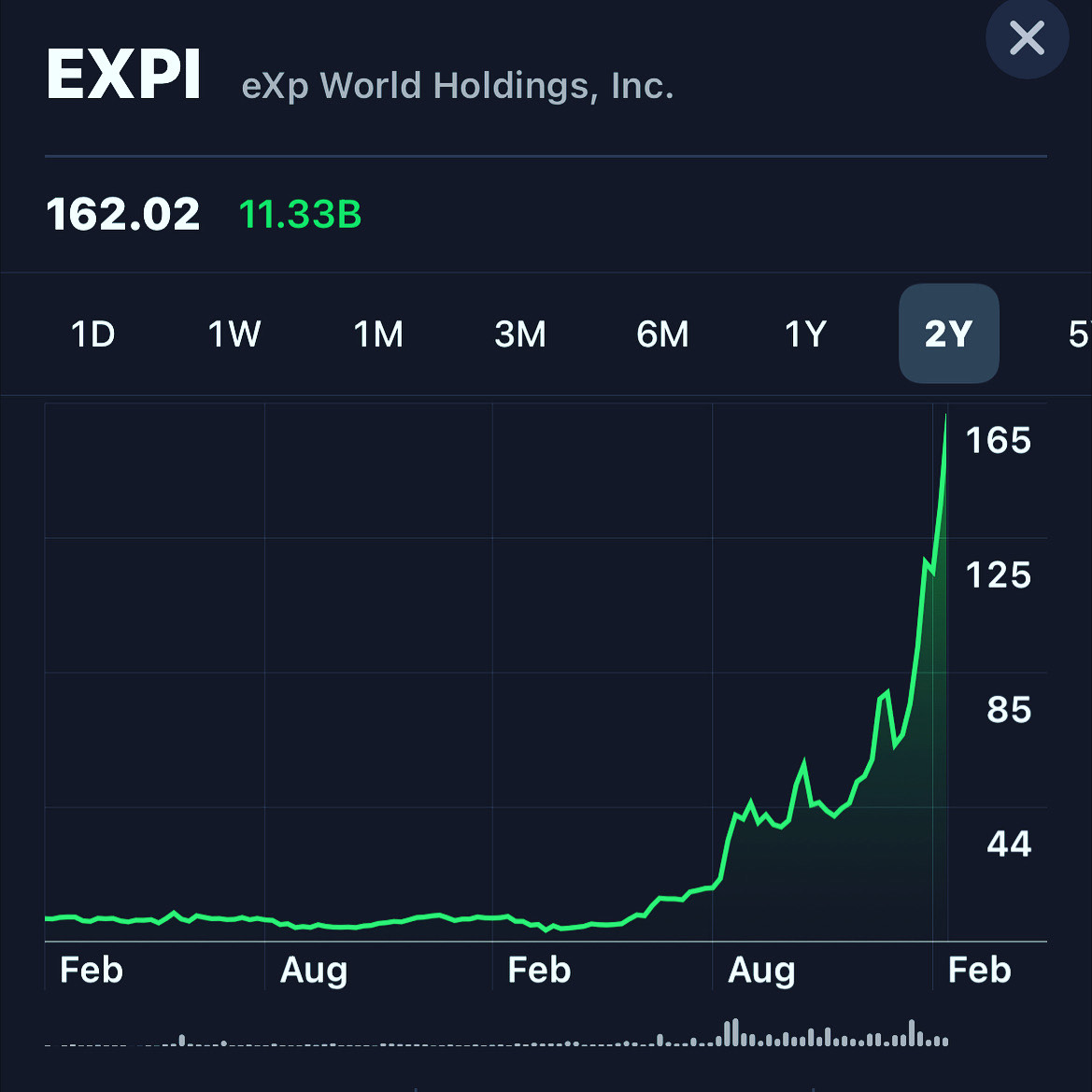 EXP Realty, a company to invest in
25th March 2021
When I first heard about this Real Estate company it did not take me long to quickly join the ranks. Not only did I see my own individual success growing with this tech based real estate firm, I saw a massive growth available for the company as a whole. It's hard to describe what this model is doing to the industry but many say its the Netflix to Blockbuster or the Amazon to Circuit City, I'm sure you get the idea. Industry Disruptor.
Exp Realty is young, it started in 2009 and the growth was very slow for nearly a decade. It took all of the successful parts of Keller Williams, ERA, BHBG, BH and many others and developed them into a completely virtual Real Estate firm.
What that means is essentially ZERO overhead costs. Our online infrastructure has allowed us to pick up nearly 1000 Agents a month for the past 3 years straight. The speed is unbelievable, currently tipping 46,000 Agents nationwide.
If you are looking at this company for investment potential I will give you the brass tacks.
So over the first ten years this company was in existence it gained about 3,000 realtors to join the team. It wasn't up until a few years ago that this company really gained traction. The next year the membership increased by about 5000, the next year was about 10,000+ in the following year was somewhere around 13,000+ new Realtors. This growth took place exclusively in North America.
Now before this company saw serious growth the stock value hovered between $9 and $14 a share.
Ever since, the stock value has increased over 1000%, today it hit an all-time high of $156.22 as of February 8, 2021.
If you compare those numbers to our potential market saturation you'll see that this company will go nowhere but up. Even with our current membership we only have about 2.75% all Realtors in the USA.
At around 44,000 realtors strong today Exp Realty has recently released two huge bits of information. Number one, we have now opened markets to Australia, New Zealand, France, Puerto Rico, South Africa and India!
Just to give you an idea of numbers, there are about 1.6 million Realtors in North America. At this point only 44,000 of them are part of the EXP team. The man who started the company, Glen Stanord, said that we are tracking to more than DOUBLE our Agents in 2021, and by the end of 2023 we should have 300,000+ Even if we expect slow growth initially with our new markets we can still see serious medium and long term potential growth just now taking root.
Since our stock has totally exploded they had to do a 2 to 1 split to accommodate the growing team. As an Agent in the company you can acquire stock in TONS of ways without spending a nickel AND you can purchase stock at a discount with a 3 year vesting. This allows all Agents to participate as an owner and join with a minimum 3 year contract assumption, which is a fantastic retention tool.
At this point my money is on this company figuratively and literally. We are exploding because we put Agents first and built out a business model that does just that!
If you're an Agent and you have an interest please contact me directly to see if it's right for you.