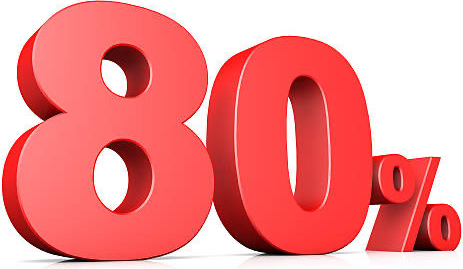 80%
24th March 2020
Here is some real talk folks. I hate to demystify the homebuying process because it really is something quite special. A new home isn't just a property in a place to lay your head it is a totally new phase of life. A new commute, new schools, new neighbors and friends, a new grocery store, a new postal worker, new new new.
All of this and more has to do with the excitement of purchasing a new home which always gets me revved up. It is my job to be excited with you and it's one of my favorite parts about what I do.
However I have a professional side of my responsibilities which requires me to be a straight shooter, levelheaded, realistic and logical. Sometimes when I work with buyers they have an image of what they want and their price point will not deliver. If you're looking for a home that's $350,000 if I show you one that's $500,000 it will be a fantastic option (obviously, right?).
If you fall in love with that $500,000 house and then I start showing you homes that are in your price point you will be underwhelmed and disappointed. You will feel like you're missing what you hoped you would get in the homebuying purchase.
Here is my rule of thumb, hope to get and strive to get 80% of what you're looking for in your new home. 80% of the important stuff, the stuff you can't change, the stuff that will make you love where you live, the "needs". The style of home, the street you live on, the proximity to work.
Almost everything inside of your house you can change while you live there to better suit your needs and all the things on that list should be considered somewhat negotiable.
How I can typically frame it is to think about where you're currently living and what you would change. Most people, in the home where they are living, have about 30 to 50% of what they're looking for and they are still living there. We are looking for an upgrade, we are looking for 30 to 50% better. That's a pretty big increase. That also typically means that someone's going to be spending 30 to 50% more on their next home than the value of their current home. You get what you pay for folks.
When you upgrade to your new home, whether it be bigger or smaller, you will find that the experience in your past property can guide you towards identifying what your new home will look like. Sometimes this can be a difficult process but the discovery is immensely important. It provides an opportunity to uncover what exactly it is you're looking for.
What do you do in your house? Do you actually cook dinner six times a week (big kitchen)? Do you actually like to entertain (open concept)? Do you actually want a big yard for gardening (managing)?
We can hash out this plan and sketch out the details of what your upgraded home would be and I will help you find it And fight to get it for you for a fair price in a good condition. Let's start the journey.